---
http://www.charivarialecole.fr/chuchoti-chuchota-a1737678
Please see the original post at the link above.
Chuchoti chuchota
Par Charivari dans Cycle II Autres le 2 Octobre 2010 à 16:52
J'ai beaucoup d'élèves qui ne savent pas chuchoter. La plupart pensent que chuchoter c'est parler bas, pas fort. Mais ils font quand même entendre le timbre de leur voix. Alors je leur ai appris une comptine (trouvée sur internet mais allongée par mes soins pour créer 3 strophes que l'on dit à voix normale, puis à mi-voix, puis en chuchotant).
C'est plutôt pour des maternelles, mais si on a la malchance d'enseigner en élémentaire avec des loulous qui ont oublié comment chuchoter, on a quand même le droit de faire une piqûre de rappel !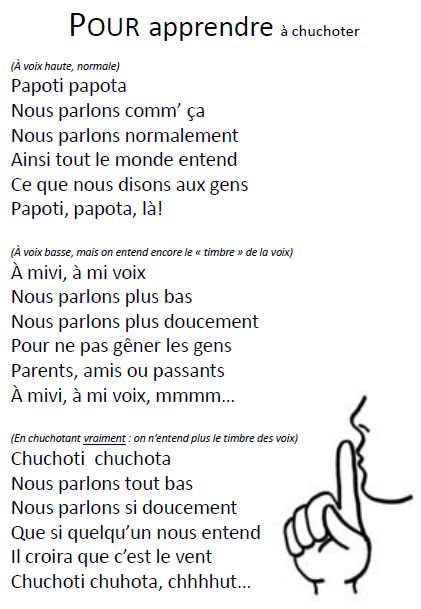 ---
If you trim construction paper to 8.5x11 it usually won't jam the photocopier!
September vocabulary review, what's in your backpack? Many classrooms have the "Lire-tôt" and "Mille-feuilles" reader series, I included two titles below that complement this vocabulary review. Students illustrate and label what's in their backpack using some pre-printed labels. They also made their own labels and added goofy items to their packs!
The last title is "Juno" from Mille-feuilles.
---
septembre - Les pommes
Classroom Visual Dictionary.pdf
All four of the grade 1 French Classes begin with a short unit about apples.
We also all introduce (or review) the vocabulary of the classroom.
---
parts of an apple labeling.pdf
This our first introduction to a simple project template I have seen called "Bits and Pieces". The idea is that young children
can create a project by simply labeling what they know. They can label an animal, a toy, a picture they have drawn.
It begins very simply with labels and later progresses to a more involved project with simple sentences or short paragraphs.
We will revisit the "Bits and Pieces" type of project in our five senses unit later on in the school year.
This one we create together. I haven't drawn the lines on this sample I see!
Even just using a ruler to trace striaght lines to the proper item
took a lot of coaching and modeling!
---
Apple name craft and apple seed numbers.pdf
This file also contains a little apple seed math numbers sheet.
Very early in the school year we make these apples with our names on them. The letters are sprnkiled flax seeds.
This follows the little labeling apples project so that students know and can use the vocabulary of the parts of an apple.
---
This is a number sense book using the 10 frame and apples.
---
This art project fits well with exploring light and dark in our colour unit as well. We discuss shadows and
where they fall, which direction is the light coming from, where will the shadow fall.
With all of my art projects I demonstrate step by step on an easle at the carpet before giving students the supplies.
Then we go through the process step by step. Many of the projects are very presscribed but because I am teaching a
technique that students can explore later. By teaching a technique the final results are almost always appealing,
whether a student thinks of themsleves as an artist or not.
This project is done on brown construction paper with pastels and then matted onto red, green or yellow
construction paper depending on the apple the student choose to draw.
---
recette pour compote de pommes.pdf
The students made applesauce. I did have a few parent volunteers this day. We used all of our senses as we prepared our sauce. My recipe isn't perfect, I think there was too much cinnamon but each group got a copy of the recipe, we went over the measuring cups and spoons, identified the ingredients and then I let them make their own sauce and added each to one common crock pot. Each group had to make sure everyone got a turn to measure, add, mix.
---